PICTURES:
ISRAEL PILGRIMAGE DECEMBER/JANUARY 2013
THOUGHTS ABOUT ISRAEL
Our flight from the US was uneventful including Dr. Parker and Dukes just making the plane at JFK. We were about 30 min late but made it through customs and over to ElDan Car Rental timely and soon were on the road to Neve Elan where we will be the next three nights. We did stop at Latrun (SI) for coffee. The weather is very nice, chilly and clear. We arrived at Neve Ilan about 5:30pm and had supper at 6:30pm. The meal was a Shabbat recognition. There were about 300 people from the local area dining with family. Shabbat is when families generally have the evening meal together. Neve Ilan is about 20 km from Jerusalem. We are in the general area for Emmaus. We are tired. Our bedtime isn't far away.
THOUGHTS ABOUT ISRAEL
I love the land of Israel, The Lord does to
Arriving is always a coming home, departure sadnes
It is an Eastern Culture, Much different than our own I've read so much about it,
That's why it seems like home
When I am here the Bible is always in my hand, the Lord`s presence near
Thoughts of the Savior, Remembrances of prophets Breathing Israeli air,
Sustenance for my soul The land of the Bible, Where we see God's actions took hold
How about today, Is it really that important to visit Israel? It enhances our understanding,
When we see Scripture alive We see the dust, the rustic browns and stunning blue skies The Galilee is very special, We see The Lord at work, ministering to great need Every time I come it is different, New People, an insight birthed anew The intensity of our pilgrimages, Tends to hold my attention When I go back home, then I will have time to think thru all the things I saw and heard Israel is a place that will connect with you, Jesus loves you
Clay                  12/28/12
A Pilgrimage to the Holy Land
December 29, 2012-January 9, 2013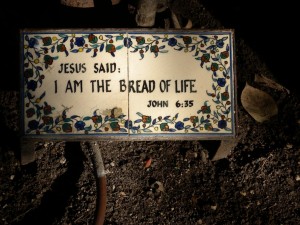 DAILY ITINERARY
December 29-SA-Day 1-depart USA on U.S. Air
December 30-SU-Day 2-arrive in Tel Aviv, overnight at Hotel Neve Ilan.
December 31-MO-Day 3- We will begin our day with a devotional and then to begin our first day's pilgrimage in Israel we will visit Tel Gezer and then travel south, visiting the Valley of Elah, where the battle between David and Goliath was waged, as well as Tel Lachish 2 Kings 14:19 where Amaziah was killed by his enemies, where Joshua fought (Joshua 10:34), and Babylon and other ancient nations battled across the centuries. We will also visit the well of Abraham at Tel Beersheva and then continue our south-bound travel thru the Wilderness of Zin and on to the Makhtesh Ramon and then overnight at the Ramon Inn, where we will have dinner.  We will have the daily Bible Study each day before dinner, time permitting.
January 1-TU-Day 4-Today we will travel north to the region of the Galilee. We will visit the ancient Nabatean city of Avdat founded in 3rd century BC before making our way down to the Dead Sea, where we will visit the sites of Masada and Qumran. We will then make our way up the Jordan Valley to Kibbutz Nof Ginosar, where we will have dinner and spend the first of four nights.
January 2-WE-Day 5- This morning we will take a boat ride on the Sea of Galilee. We will also visit the Christian sites around the Sea of Galilee, including Capernaum-the town of Jesus, the Primacy of Peter, Chorazin, and the Mount of the Beatitudes. After continuing our drive across the country, we will make our way towards Cana in Galilee and Nazareth where we will visit the city overlook.  From Nazareth we will drive to Sepphoris where we will visit a town built by the Romans during the time of Jesus.  We will finish our touring in the late afternoon and arrive back to Nof Ginosar for dinner and overnight stay.
January 3-TH-Day 6-Today we will visit Kursi before meeting our drivers for a jeep tour of the Golan Heights. Afterwards we will visit Caesarea Philippi where Jesus taught His disciples and Tel Dan Nature Reserve before returning to Nof Ginosar for dinner and overnight stay.
January 4-FR-Day 7-Our journey today will take us across Central Galilee to visit Tel Megiddo (7,000 BC to 586 BC) that guarded an ancient trade route, then to En Harod (Spring of Harod) where Gideon prepared to fight the Midianites (Judges 7), next to Beit Alpha and then to Tel Bet Shean (Roman city of the Decapolis Scythopolis) before returning for our last night at Nof Ginosar.
January 5-SA-Day 8- After an early breakfast we will begin our journey south towards Jerusalem. Our first stop will be Mount Carmel, where Elijah slew the prophets of Baal. We will then visit Herod's beautiful coastal city of Caesarea, and Tel Arsuf, also Apollonia originally settled by Phoenicians. We will then arrive in Jerusalem at Kibbutz Ramat Rachel, where we will have dinner and spend the first of three nights.
January 6-SU-Day 9- Today we will be in the Old City of Jerusalem, visiting Mount Zion, the Upper Room, St. Peter in Gallicantu, the Mount of Olives overlook, Dominus Flevit, the Garden of Gethsemane, and the Church of All Nations. There will also be time to do some shopping in the Old City before arriving back at Ramat Rachel for dinner and overnight.
January 7-MO-Day 10- Our first stop will be at the Panorama Overlook, which will provide a breathtaking view of the city. We will then explore the Temple Mount before walking the Via Dolorosa. Making our way to the Church of the Holy Sepulcher, we will visit several sites, including the Russian Orthodox Church. There will also be some time to explore and shop in the Jewish Quarter of the Old City before arriving at Ramat Rachel for our final evening in Jerusalem.
January 8-TU-Day 11- On our last day of touring we will visit several sites in and around Jerusalem, including the Herodian, Nebi Samuel, the Israel Museum, and Yad Vashem (the Holocaust Museum). We will have dinner in ancient Jaffa before arriving in Tel Aviv for our late evening flight home via U.S. Air.
January 9-WE-Day 12-Arrive back home in USA.
HOTELS:
Dec 30-SU-HOTEL NEVE ILAN -TEL: 011 972 03 9190669.
Dec 31-MO- RAMON INN -TEL: 011 972 08 6588822. FAX: 011 972 08 6588151.
Jan 1-TU-NOF GINOSAR HOTEL -TEL: 011 972 04 6700320. FAX: 011 972 04 6792170.
Jan 5-SA-KIBBUTZ RAMAT RACHEL-TEL: 011 972 02 6702555. FAX: 011 972 02 6733155.
Ophir TOURS-TEL: 011 972 03 5269741